Sidewinders for HONDA CB1300
Campbell Custom Sidewinders are exclusively hand made to customer's order from
top quality stainless steel and polished to a high standard.
Campbell Custom Sidewinders are a slip on and can be fitted in 20 minutes.
This is not a complete system.
Campbell Custom Sidewinders give an immediate increase in power.
Campbell Custom Sidewinders have billet internal end caps with removable baffles for track day use. (please note the noise level will be illegal if removed and used on the public highway).
When removed and used for track days they will give the same power as race cans.
* Campbell Custom Sidewinders are a slip on unit, NOT a complete system

£380.00 plus £12.50 p&p
Single sided later models available

Sidewinders are of a welded construction in Polished Stainless Steel.
Matt Brushed Finish now also available. Please state when ordering.
We now make a 2 inch (50mm) Shorter version.
These sidewinders also fit 08/09/2010/2011 CB1300

How to order: Please telephone / email / fax. You will then be given a delivery date, this could
be up to 3 weeks depending on our workload. You do not pay any money or deposit at this stage.

We will contact you as soon as your order is ready. We only then, take your credit card details.
You will receive your order the following day if you live in the U.K.
Europe approx 5 days : USA, Canada, Australia, approx 10 to 14 days.
We do not take your money and put you in the promised land.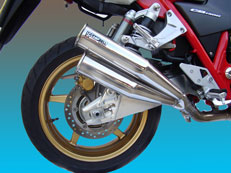 We would like to thank
Bob & Peter
of
21st Moto Honda of Swanley
for the loan of their
CB1300

Opening Hours:
Mon - Sat 9-12 noon

Please text or email your enquiries and I will get back to you.

One-offs
Please phone before calling in person at workshop


CAMPBELL CUSTOM EXHAUSTS
Rear of Lockyer Motors, The Forge, Skibbs Lane,
Chelsfield Village, Nr Orpington, Kent BR6 7RH
Tel: 07946 759990

EMAIL US NOW Click Here