Directions for Track Day Use
1. In the end of each can there are 6 socket end screws.
2. Three of these are fixing & three are cosmetic.
3. Remove the 3 fixing screws.
4. Remove alloy plate complete with road baffle.
5. Remove baffle from alloy plate.
6. Replace alloy plate into end of can using new screws
and shakeproof washers.

Replace baffle for legal road use.

Sidewinders come with baffles fitted - no fuel re-map necessary.
When baffles are removed you are up to Race Can Mode and it is necessary to re-map ECU.
When comparing sidewinders with race cans
remove baffle units for a fair comparison.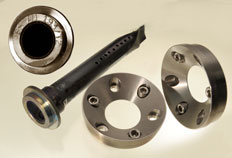 Inset shows end with BS number.
For individual character, high performance systems for Racer, Chop, Trike, Streetfighter,
or just a lifetime lasting exhaust for their everyday ride to work machine
Contact Campbell Custom Exhaust, where you will find a friendly and helpful personal service.
We Can Dispatch to Anywhere In The World
Opening Hours: See Home Page

Please phone before calling in person at workshop

Please text or email your enquiries and I will get back to you.


CAMPBELL CUSTOM EXHAUSTS
Rear of Lockyer Motors, The Forge,
Skibbs Lane, Chelsfield Village, Nr Orpington,
Kent BR6 7RH
Tel: 07946 759990


EMAIL US NOW Click Here
How to find us
Click here for map