Dave Redgate 55, from Orpington, Kent
Dave has been riding, building and racing motorcycles for the last 40 years, from Cafe Racing on the streets to racing in the Macau GP, from Club racing to World Superbikes and World Endurance
He has built cafe racers, race bikes, classic bikes and vintage bikes, two stroke engines and four stroke engines.
Dave always raced as a privateer on bikes that he looked after himself and competed against the best, getting many front row starts and top finishes at British Superbikes, F1 and Supersport races during 1989 to 1994 seasons and also raced in some World Superbike rounds in 94.
He has an unbeaten 350cc race record, and a Superbike lap record at Lydden that has stood since 1994.
Some of his successes include: 1985 Lord of Lydden, 1985 Dennis Trollop 1300cc Championship, 1985 Champion of Snetterton, 1989, 9th British Superbike Championship, 1992 8th in BSB Supersport Championship, 1993 2nd UK riders 600 championship., 1993 11th in the 24hr Bol'd'or World Endurance.
At the latter end of the 90's he got a Kawasaki ZX7RR which he used to make and have made some performance parts including carbon fibre bodywork/air boxes, aluminium brackets etc. It was on this bike that John Campbell supported Dave supplying a titanium silencer which John would repack on a regular basis.
John also built a road going stainless system for Dave's road Kawasaki ZX7.
After Dave's racing career he ran a team in the British supersport championships "Team Buff" running Kawasaki ZX6's in 2006/7 followed by Triumph 675 daytona's in 2008. Then Dave retired from racing to start rebuilding Vintage & classic bikes.
John Campbell. Time served engineer, from back in times when engineers worked with their hands, ex short circuit racer and Isle of Man TT and Southern 100 sidecar rider.
The name Campbell well known in the motorcycle world, and is synonymous with motorcycle exhausts for the last 48 years and his experience will continue to be behind exclusively show winning 1off and new custom, competition and café racers.

Now looking forward to working with two new enthusiastic younger partners Andy and Dave we will continue to develop the new products into 2016.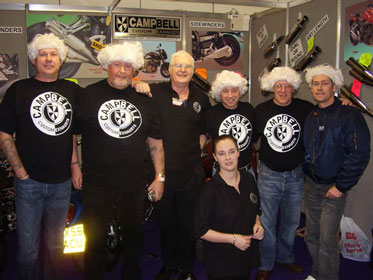 John (centre}at the London Excel EC trade show.2007
Daughter Laura at front. The wigs are a tribute to John

8 Countries 2,500 miles, great European tour with MSL.
Trevor, Brian, Belinda and John at the glacier on
Grobglockner Pass 3,800 meters above sea level.
Austria July 2013. Fantastic ride - great people.

Awaiting Text
Awaiting Text


Awaiting Text

For individual character, high performance systems for Racer, Chop, Trike, Streetfighter,
or just a lifetime lasting exhaust for their everyday ride to work machine
Contact Campbell Custom Exhaust, where you will find a friendly and helpful personal service.
We Can Dispatch to Anywhere In The World

Opening Hours: See Home Page

One-offs
Please phone before calling in person at workshop



Please text or email your enquiries
and we will get back to you.

CAMPBELL CUSTOM EXHAUSTS
Rear of Lockyer Motors, The Forge,
Skibbs Lane, Chelsfield Village, Nr Orpington,
Kent BR6 7RH
Tel: 07946 759990


EMAIL US NOW Click Here
How to find us
Click here for map